In true Austin fashion, The Mighty Cone sits in a parking lot in the hoppin' South Congress district. Little more than a trailer and picnic benches, The Mighty Cone offers Hot 'n' Crunchy sandwiches in a cone. The Cone's owner, Jeff Blank, began this fair-worthy food back in 2002 when the Austin City Limits Festival contacted Hudson's on the Bay to help entice local restaurants to join the festival's food court. At that time, Hudson's on the Bay was already offering Hot 'n' Crunch trout, easily one of their most ordered entrees. Blank and Executive Chef Robert Rhoades began to test their breading on other foods and decided to go with chicken, breaded with their Hot 'n' Crunchy, wrapped in a tortilla, dropped into a paper cone and served with mango-jalapeño slaw and ancho sauce.
Just like that, the Hot 'n' Crunchy Chicken Cone was born. These cones proved to be a fan favorite at the ACL Festival for years, and they ended up expanded the menu to include avocado and shrimp. After the fair hype and
sales, Blank knew he had to offer the Hot 'n' Crunchy Cone on a regular basis. In March 2009, he launched the opening of The Mighty Cone on South Congress. Blank's motto: "If it sits still long enough, we'll put Hot 'n' Crunchy on it."
The Mighty Cone is an expanded version of the ACL Festival offerings. They now offer a variety of cones to include their chicken, avocado, and shrimp staples and combinations of those. The chicken avocado cone is tasty and filling. The Mighty Cone also offers a cone dog, which is made with grass fed venison and beef sliders. For vegetarians, the cone has All-Veggie sliders. Pair any cone with some fries or the even bolder chili-dusted fries and you're in for a real fair experience. Finally, but certainly not least, wash it all down with fresh hand-dipped Blue Bell shakes that come in chocolate, vanilla, or fresh strawberry. The best part? The Hot 'n' Crunchy Chicken Cone is a mere $4.95. They offer delicious food that's easy on the pockets, and FAST. This is lunch-break-approved and a definite destination for any traveler trying to avoid restaurant chains in Austin.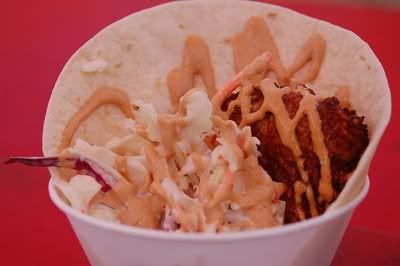 If you happen to find yourself on the South Congress block, look for the bright red picnic tables and big umbrellas. You might order a cone and chat amongst your friends while it cools in their fancy cone holders (each table offers many holders) and enjoy the foot traffic and music that South Congress always offers. The Mighty Cone: definitely giving ice cream a rival in the cone business.
By: Tanya Munoz